Happy Holidays
Santa was back logged this year.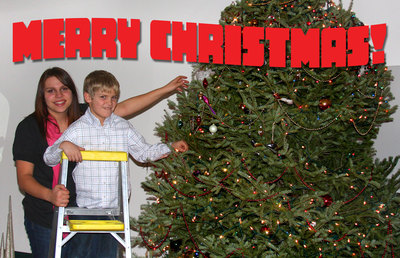 Posted by mark at
8:05 AM
|
Comments (0)
Random Beijing
I did not order and Olympic tickets so I still have time to post some Beijing pictures. I was protesting the VANOC's policy and how they sold tickets. The only way I could get tickets to see an awards ceremony is if I was a Canadian citizen living in Canada. Outside the subway entrance which was about a half mile away from my hotel I heard this guy and then found him. He was not pan handling for money. The next is the lights that lined Olympic Park all had the Bird's Nest theme to it. The last was one of the nicer bathrooms I found. This was actually not even open yet. This was at the underground subway stop that was to open after the games. Nice hole to drop stuff into!
Posted by mark at
12:28 PM
|
Comments (0)
Haiku and Hockey
Is it Jack and Phil?
Or Bucky and the Sign Guy?
Jack Taught Dad Haiku
Siobhan got help this year from Jack. For Halloween Jack and Siobhan made Bucky's head out of paper mache. Jack wanted to wear it to a hockey game so I let him. He was the hit of the game. He was on television and numerous times on the Jumbotron. Jack had also taught me how to write a Haiku.

Playing in the snow
With my sister and cat Zach
It is very fun
Winter can be fun
Eating icicles feels cold
I like eating snow
Blizzards cancel school
We don't have school in winter
Snow is very fun

Then I wrote my first one!
Jack likes the Summer
Dad goes to the Olympcs
Maybe Jack goes soon!
Posted by mark at
1:04 PM