Sledding Hill
That's what the sign said. This hill is located on the north east side of Kenosha off of 22nd Ave. You drive to the top and then it is bowl shaped hill. Jack and I met Jeff, and his children Jake, AJ, and Samantha. Jeff is great at making jumps.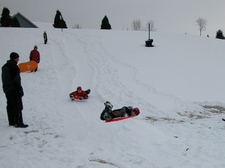 I still think Petrified Springs Park has a better hill. We never seem to go there during the day though.
Posted by mark at
6:51 PM
|
Comments (0)
How could this be?
The Wisconsin Badgers should have won the hockey game last night. As bad as they are playing or being coached they really needed it. This link will say oops!. Oh by the way my brother and I have been to the last 2 NCAA Divison 1 Championships the Badgers have won. I don't think we will be going this year though.
Posted by mark at
10:55 PM
|
Comments (0)