February 6, 2008
No snow day
Last week the Maddy and Jack had two snow days when most other school districts stayed open. Well today, all school districts in Southeastern Wisconsin were closed except for Kenosha Unified School District. I do not know who or what criteria is used when making the closing but I do know that we missed most of the snow last night, but got pounded all day today and we have now received close to the amount that weather forecast said 14" and it is still coming. So I went out with my wide angle lens. This is a picture of the front of our house with Maddy Robert and Troy shoveling. Pretty amazing for high school students! You can see that the political sign for Brian Weyrach is just peeking out of the snow. This is for the election on February 19th for 17 District Alderman. Jack is on the far left with friends Danny and Justin just goofing off.
Posted by mark at
4:13 PM
|
Comments (0)
February 5, 2008
UW vs. WU
You got it hand it to lawyers. I am not one but I do not see how this can not be trademark infringement. This was in the Milwaukee Journal. This is a link to Washburn University's blue W. Yes the colors are different, Wisconsin's is red, but the flying W looks the same to me how about you?
Posted by mark at
8:11 AM
|
Comments (0)
February 1, 2008
The Bistro
Maddy's school, Haborside Academy, had a very interesting week. The whole school district had a snow day on Wednesday because the wind chill was -20. Then today we received more then 10" of snow and another snow day. This whole week Maddy was part of 21 students participating in a French Culture Intensive which included creating a French style dinner. The dinner was held at the newly remodeled and soon to open Kenosha Yacht Club. The food was a very good. It appeared that the students learned quite a bit. I still am impressed with the support these kids get from their teachers it is so great! Perhaps one of the students who took the web site design intensive could update the yacht club's site.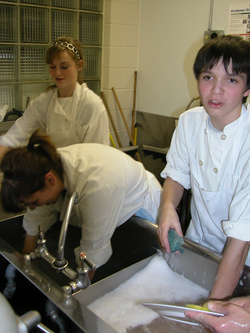 Posted by mark at
10:09 PM