Jeff and Karen's reception
This was a shot taken from Sandy's Canon PS500 right before the batteries went dead. This is why I have no pictures of the bride. From Left to right Janet, Don, Barry, Theresa, Maggie, Siobhan, Dave, Jay with cigar, Sandy, Rich and Deb.
It was a wonderful evening at the Bristol Oaks Country Club. Siobhan and I were last there for a wedding about 20 years ago! No mention of who tho right Donna?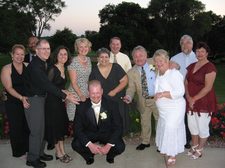 Posted by mark at
11:30 PM