HOF part 2
Maddy and I had a great time while were at the ceromony. It was just getting there and getting home that were the problem. This was supposed to be a formal event. Yes that is our 12 ft' tree in the backround. Maddy wanted me to take this picture. The 1984 mens gymnastic team was inducted into the Hall of Fame and presnted by John Nabor. That is Bart Conner at the mic. Maddy and I talked to both of them! Next is a family picture of the Shea's. Jim Shea carried the flag in SLC and won a gold medal. His dad Jack competed in 68 and His grandfather (deceased) was at one point the oldest living medalist. As he won gold in 1932. The last shot is of all the inductees. This should be on NBC January 1 2:30 - 4 ET. So watch for us.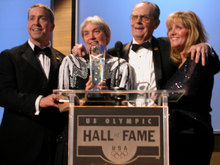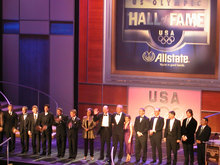 Posted by mark at
6:57 PM
Olympic Hall of Fame
Maddy and I love the snow so much as soon as she types it up I will link to it. I just wanted to place these up fast. Watch NBC on New Years day and you may see someone else presenting the medal.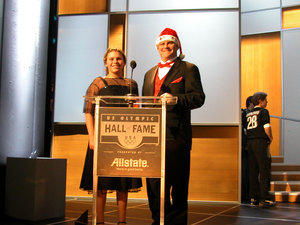 Posted by mark at
7:35 PM